New commission for Nordic string quartet
New commission for the award winning Nordic String Quartet. Excited to work with these magnificent musicians.
"I shall feed my eyes" world premiere in VEGA Cph.
New piece for award winning choir Ars Nova premiers in VEGA in Copenhagen on the 17th of October.
I shall feed my eyes is about overexposure – a circular narrative exploring two fundamental flaws of human behaviour: greed and self- staging. Subsequently the singers are not referred to as soprano, alto, tenor or bass, but merely Voyeurs.
The piece consists of six different movements referred to as Mirages, each movement exploring different ways of mirroring oneself whether on social media, in the privacy of your bathroom or in popular culture.
The text in "I shall feed my eyes" is a short extract from the Roman poet Ovid's metamorphoses, book 3: the myth of Narcissus and Echo (8 AD). This piece is about the pool of water in which Narcissus falls in love with his own reflection and subsequently dies. This pool represents the age of digital narcissism – changing of mirrors from pool to screen. As relevant today as in the day of Ovid.
"Motherboard" – new artist collective by Signe Lykke and Katinka Fogh Vindelev
Newly founded artist collective, "Motherboard" is a community and a laboratory that radically rethinks opera – a group of artists each representing a creative field within opera´s core disciplines.
Motherboard is founded by composer Signe Lykke and performer and soprano Katinka Fogh Vindelev.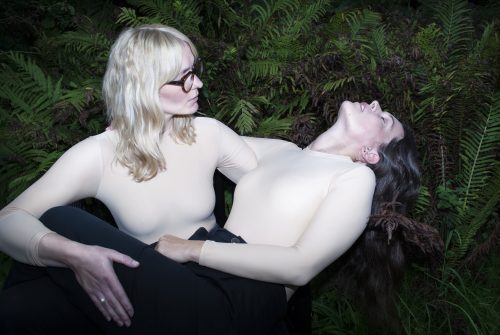 Nordkraft in Politiken as "event of the year 2021"
Nordkraft is mentioned in Politiken as one of the most memorable events of 2021. "Abstinenser og mørke: med operaen "Nordkraft" skabte komponist Signe Lykke og tekstforfatter Nila Parly en forestilling, der indfangede det hårde narkomiljø omkring en flok unge i Aalborg. Ved at omforme forestillingen i Ejersbo roman til tre scener uden for tid og sted lykkedes det at bruge opera genren til det den virkelig kan: skabe store stemninger og følelser. Værket blev en begivenhed i 2021″
Nordkraft nominated for a Carl Award
The opera "Nordkraft" is nominated for a Carl Award 2022 in the category "Large ensemble" together with Bent Sørensens´ piano concerto and Martin Staunings´ harp concerto. The award ceremony takes place in Tivoli Copenhagen on June the 13th.
Nordkraft nominated for a Reumert Award
The opera "Nordkraft" is nominated for a Reumert 2022 award in the category "best opera". The award ceremony takes place at Odeon in Odense June 12th.
First performance of the opera trilogy by Motherboard to premier on CPH:DOX
The first chapter of the opera triologi entitled "Hele min Eksistens var som et Glas Mælk mellem mine Hænder" by artist collective "Motherboard" will premier at CPH:DOX festival on the 3rd of April 2022 at Statens Museum for Kunst. The opera will be presented in three different performative settings: a long durational opera performance by soprano Katinka Fogh Vindelev and percussionist Sara Nigaard Rosendal, a short film and four different film tableaus directed by film makers Cille Hannibal and Frigge Fri and the digital release of the score for "Hele min eksistens var som et glas mælk mellem mine hænder".
Review of Nordkraft in Financial Times
★★★★ Financial Times – "Lykke delivers moments of brilliance in her first full-length opera, and she has striking scenography, lighting and acting with her every step of the way."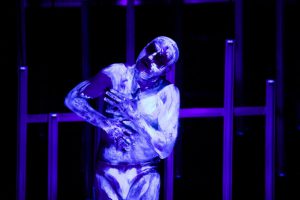 Review of Nordkraft in Sceneblog
★★★★★ Sceneblog.dk
"With Signe Lykkes newly composed notes director Jacob Hultberg takes a beautifully composed collection of musicians – from Copenhagen Phil, Halvcirkel and Copenhagen Opera Festival, and let them fill the theatre with tension and absolution as the vocalensemble Ars Nova Copenhagen and the cast of singers fomidably delivers to the audience."

Review of Nordkraft in Nordjyske Stiftstidense
★★★★★ Nordjyske
"(…) The duet "Du er mit Hjem" is an example of melodical purity and impact which has pure operaformat and reaches your heart"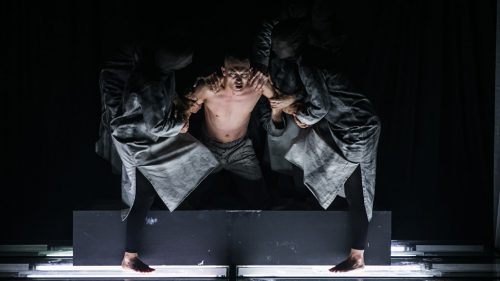 Signe Lykke on Nordkraft short documentary