Signe Lykke is a young'ish danish composer holding a masters degree in vocal studies from The Rhythmic Conservatory of Music in Copenhagen and a master degree in classical composition from Trinity Conservatoire of Music in London and College of Fine Arts in Austin, Texas. She recently graduated from The Royal Academy of Music in Århus as an advanced postgraduate diploma student with composition as her principal course of study.
Her music is often described as poetic and textural and explores the concept and perception of harmony and time.
She has worked on several interdisciplinary projects among others the highly acclaimed score for the full scale opera "Nordkraft". Current musical activities include a new violin concerto commissioned by four string orchestras in Sweden, Finland, Norway and Denmark and violinist and DR concert master Christina Åstrand, a new piece for choir, two vocal soloist and piano exploring age in timbre commissioned by pianist Katrine Gislinge set to premiere at Frederiksberg Festspil in September, a new chamber opera by "Motherboard" (a newly founded artist collective), a new piece for chamber orchestra and mezzo soprano called "UHR" commissioned by singer Kirsten Voss and a new harmonica concerto commissioned by the symphony orchestra Copenhagen Phil and harmonica player Mathias Heise.
Signe Lykke is the recipient of the talent award at The Danish Music Publishers Award (Carl Prisen, October 2019), the A.C. Lumbye / Agerby prize (October 2019), the Wilhelm Hansen honorary award (October 2020), Carl Nielsen and Anne Marie Carl Nilsen talent award (April 2021) and Statens Kunstfonds "Den Unge Elite" award (2021 – 2022).
Listen to Signes work on Soundcloud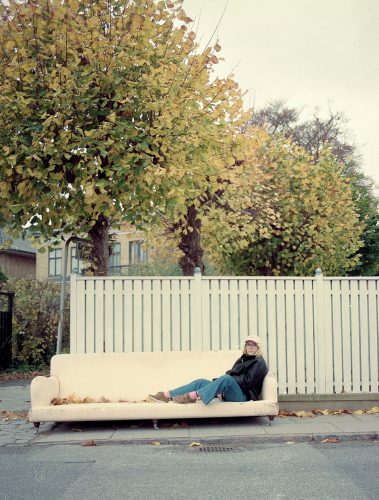 "Curiosity and a tenacious and sustained desire to challenge herself at the highest level possible. For Signe, there is no easy way out as far as her writing is concerned, and she does not cut corners. Her dreams and her visions are big, and her music has to follow suit. She succeeds – Signe loves the toil of turning dreams into music. An original music – all her own. A music that was unknown to exist, before she found it; but one that fortunately exists now! "
Bent Sørensen, Composer
"Signe Lykke is an artist who succeeds in being visionary within her artistic work, in challenging the norm and in dreaming big, while at the same time having such a solid and strong sense of craftsmanship and human approach, that taking chances and going off the beaten path, is second nature to her. 
Signe Lykke works with music in a variety of ways, but always with a clear vision bound to reveal uncharted territory to her and more often that not to her artistic field as well.
Her character is forthcoming, curious, involving and attentive, and her great desire to unify the artistic fields while constantly learning something new, is clearly evident.
I can only say that the pleasure has been all mine in my work with Signe, and the inspiration and motivation for an ongoing and lasting collaboration is entrenched in me."
Tim Matiakis, choreographer and dancer
"Signe is an artist who is deeply rooted in herself, and yet still succeeds in moving it all up a notch in synergy with others. Collaboration means a lot to her, and in my case, this collaboration has developed into an extremely creative and fertile process. I admire Signe's courage to take chances and to thoroughly try out ideas and stick to them. Signe has an impressive gut feeling, and she trusts it. I love this about her – a total devotion to the artistic material she is working on at any given moment, as well as the people she is working with. To me, her artistic work reaches beyond music, and she creates physical and emotional universes that move you emotionally, rather than intellectually. And if there is anything I need at the theatre or in an opera, this is definitely it. Signe scratches on the surface long enough for it to give in, revealing indefinite worlds behind it, wherein you can dissappear, dissolve and rediscover yourself anew. 
P.S. Let it be known here, that Signe has promised me, or I have willingly forced her into composing a piece of music for my funeral, so as to give my soul the most beautiful accompaniment on its way."
Anja Behrens, Stage Director
"My collaboration with Signe Lykke began in 2015, when I needed music for a documentary. Her approach to the project was different from that of other composers. She insisted on being a part of it right from the pre-production stage. The music was to evolve with the film, and not simply "just" be made on its own to be added to the final edit later. It was to be a fluid process, where pictures and music would develop coherently. A symbiotic relationship, where one could not exist without the other. In this way, she succeeded in creating a unique soundtrack. It was a great success, and she has been my first call for film projects ever since. She is humble, diligent and always sets the bar sky-high. This makes her one of the most skilled artists I have worked with."
Cille Hannibal, Film Maker
"Working with Signe is best described as such: an unbending sense of integrity, mixed with a serious playfulness and a great sense of inclusion. Moreover, we have a warm friendship. Signe is a composer who works with a clear vision from beginning to end. At the same time, with a flexibility that comes from the willingness to allow the music to flourish in conjunction with the performer. She searches for new sounds, new tones, new ground to cover. Innovative, yet true to her own inner world of sounds. A shared joy of exploration and experimentation, makes us a great match. Playing the works of Signe is always a major musical challenge, and we always walk away more unified and with new musical tools and nuances to boot."
Halvcirkel, String Quartet